Mobile Chainsaw Repairs and Maintenance
WHAT DOES IT COST FOR A CHAINSAW TUNE UP IN OTTAWA?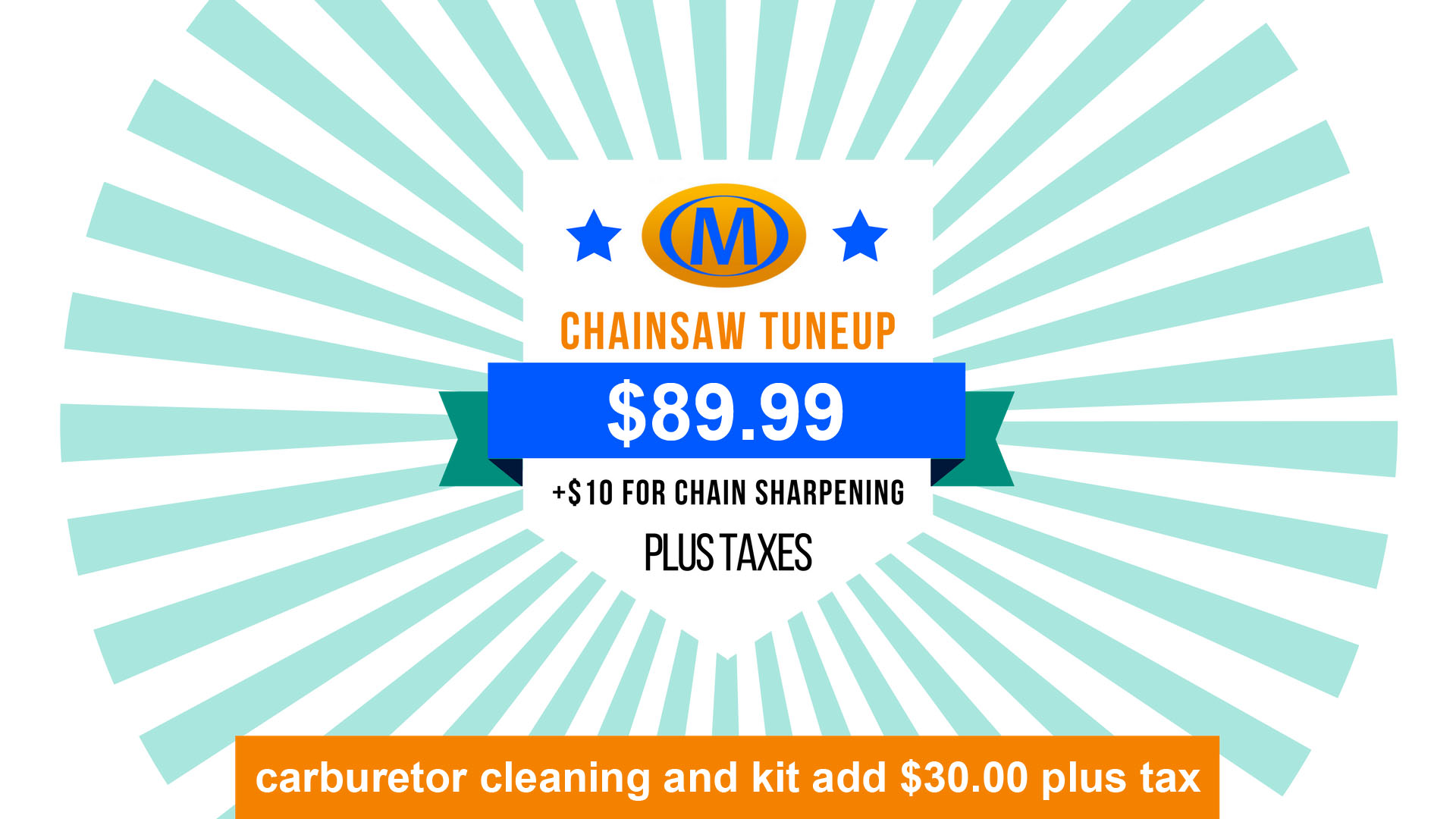 Check the throttle trigger for smooth operation.
Clean the chain brake and check its function according to the instructions. Make sure that the chain catcher is undamaged.
Otherwise it will require replacement
Clean or replace the air filter as necessary. Check for damage or holes.
Check the lubrication hole in the bar, to be sure it is not clogged. Clean the bar groove, if the bar has a sprocket tip, this should be lubricated.
Check the function of the oiler to be sure the bar and chain receive proper lubrication.
Sharpen the chain and check its tension and condition. Check the drive sprocket for wear. Replace if necessary.
Check the starter and starter cord for wear or damage. Clean the air intake slots on the starter housing.
Check for any loose nuts and screws and retighten if necessary.
Test the stop switch to be sure it shuts off the engine.
Check the cooling system of a saw fitted with a catalytic converter.
Check that the AV elements are not soft or torn.
Lubricate the clutch drum bearing.
File off burrs, if any, on the sides of the bar.
Clean the spark plug and check the gap. The correct gap is 0.5 mm (0.020 inch).
Check the starter and the recoil spring. Clean the fins on the flywheel.
Clean the cooling fins on the cylinder.
Clean or change the screen in the muffler.
Clean the carburetor body and air box.
Check the brake band on the chain brake for wear.
Check the clutch center, clutch drum and clutch spring for wear.
Clean the outside of the carburetor.
Check the fuel filter. Change if necessary.
Clean the inside of the fuel tank.
Clean the inside of the oil tank.
Check all cables and connections.